Julie Andrews Wallpapers
The star we know today as Julie Andrews was born Julia Elizabeth Wells in Walton-on-Thames, Surrey, then a small village, roughly 18 miles south of London, England. Her father, Ted Wells, was a schoolteacher and enjoyed the simple life of the countryside. Her mother, Barbara, a talented pianist, taught piano but longed for a career on the stage. Ted and Barbara Wells divorced on the eve of World War II, and Barbara married Ted Andrews, a professional singer. Ted and Barbara Andrews formed a musical act and toured England entertaining the troops. Ted Andrews gave the little girl her first singing lessons, and was immediately impressed with the child's strong voice, large vocal range, perfect pitch and precocious musical ability. At age eight, she was taken to study with Lilian Styles-Allen, a noted concert singer. Styles-Allen trained her pupil in operatic repertoire and taught her the perfect diction for which she would become famous. Although Julia remained close to her father, she lived with her mother and took her stepfather's surname when she joined the family act at age ten.

Julie Andrews, as she was now known, made her radio debut in 1946, singing a duet with Ted Andrews on a BBC variety show. She gave her first performance as a solo artist at London's Stage Door Canteen, where she was seen by two members of the Royal Family, the mother and sister of the present Queen. The exquisitely self-possessed little girl with the crystal-clear voice was attracting the attention of serious theatrical management and was soon ready to make the move from provincial music halls to the theaters of London's West End. At age 12, Julie Andrews was cast in a musical revue, Starlight Roof, at the London Hippodrome. Her first appearance stopped the show, and the revue ran for over a year. Julie Andrews became the youngest performer ever to appear at a Royal Command performance, singing an aria from Mignon for King George VI at the London Palladium.

The American film studio, Metro-Goldwyn-Mayer, which had recently opened a London branch, made a screen test of the young singer, perhaps seeing her as a successor to the child singing stars of the pre-war era. The studio failed to offer her a contract, dismissing her as "unphotographable." Nevertheless, she soon appeared on one of Britain's first television variety programs.

The teenage Julie Andrews was a regular presence on popular British radio shows in the 1950s, and as she grew into young womanhood, she played leading roles in a series of Christmas pantomimes. The "pantos," a holiday tradition in Britain, are popular family entertainments, usually based on a familiar fairy tale. Far from being silent, as the name might suggest, they typically include lots of singing, dancing and male comedians in drag. Each holiday season of her teens found Julie Andrews playing another fairy tale heroine, from Little Red Riding Hood to princesses in Aladdin and Jack and the Beanstalk. She was appearing in one of these when she met an aspiring artist named Tony Walton, who would play a large role in her later life. During the regular season she continued to perform as a solo artist and with Ted and Barbara Andrews.

Julie Andrews was playing the title role in the pantomime Cinderella when she was first seen by the songwriter Sandy Wilson and the American producer Cy Feuer. Wilson was the creator of a popular West End musical, The Boy Friend, a pastiche of the musical comedies of the 1920s. Cy Feuer planned to bring the show to Broadway and wanted to recruit a British cast to preserve the flavor of the London production. When Feuer and his partner, Ernest Martin, offered Julie Andrews the lead in the Broadway production of The Boy Friend, she was reluctant to travel to America. She was only 18, and had never traveled so far from her family. She finally agreed to a one-year contract, and boarded the plane for the country where she would spend most of her life.

The Boy Friend was an immediate success on Broadway, and the teenage Julie Andrews was a sensation, delighting critics and audiences with her fresh good looks, grace, sparkling singing voice and gem-like diction. She was asked to audition for the words and music team of Alan Jay Lerner and Frederick Loewe, who were preparing the original production of My Fair Lady, their musical version of the play Pygmalion by George Bernard Shaw. Lerner and Loewe had not enjoyed a success on Broadway since Brigadoon, almost a decade earlier, and many Broadway hands doubted that the two could make a successful musical out of George Bernard Shaw's classic comedy.

The role of Eliza Doolittle in Pygmalion -- a bedraggled street urchin in the first act, transformed into a regal society beauty in the second -- had already been played by many distinguished actresses on stage and screen. The musical adaptation called for a versatile young actress who was also an accomplished singer. Although a number of established stars coveted the part, Lerner, Loewe and director Moss Hart decided to take a chance on the 20-year-old Julie Andrews, who had never before acted in such a demanding role. Her costar, Rex Harrison, an experienced stage and film star, had never sung on stage before. The rehearsals were difficult. Although Andrews was more than capable of carrying off the demanding songs, her relative lack of acting experience caused unease in the company. Director Hart worked with her tirelessly, a process she recounts in her interview with the Academy of Achievement, as well as in the Audio Recordings area of this site.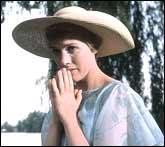 When My Fair Lady opened in 1956, it was an unprecedented success. Critics acclaimed it as the greatest musical ever staged and it sold out months in advance. Julie Andrews won universal praise for her incandescent performance. The original cast recording became a best-seller, one of the most successful releases in the history of Columbia Records. It remained a mainstay of the label's catalogue for many years.



Julie Andrews Wallpapers
Days before the show opened, Andrews also made her American television debut in a musical version of the Maxwell Anderson play High Tor, appearing opposite Bing Crosby. After playing Cinderella in pantomime and starring in the most successful of modern Cinderella stories, Julie Andrews was asked to play the role yet again when America's premier theatrical songwriters, Rodgers and Hammerstein, wrote an original musical for television with the new star in mind. Rodgers and Hammerstein's Cinderella aired live on CBS, with Andrews taking a night off from her eight-performance-a-week schedule in My Fair Lady.

Julie Andrews Biography Photo
After two years of playing Eliza on Broadway, Julie Andrews returned at last to England to star in My Fair Lady in London's West End. The show was just as successful in London as it had been in New York, and she settled in for a second long run in the show. While in London, she renewed her acquaintance with her childhood friend Tony Walton, who was now embarking on his own theatrical career as a designer of sets and costumes. Andrews and Walton were married in 1959.

Back in New York, Lerner, Loewe and director Moss Hart were eager for Julie Andrews to star as Queen Guinevere in their new musical, Camelot, with Richard Burton as King Arthur and Broadway newcomer Robert Goulet as Lancelot. Despite the acclaimed performances of a prodigiously talented cast, the show's Broadway run got off to a rocky start. Initial ticket sales were slow, but when Andrews and Burton performed scenes from the show on the popular Ed Sullivan television program, box office demand skyrocketed. The original cast recording sold well and was a particular favorite of President John F. Kennedy and Mrs. Kennedy in the White House.

Julie Andrews Biography Photo
During her two-year run in Camelot, Andrews was approached by Walt Disney to star in a film musical of the children's book Mary Poppins. At the time, she was expecting her first child, but Disney was willing to wait until after her child was born to begin production. Andrews and Walton had a daughter, Emma, in 1962. Andrews had hoped to be cast in the film version of My Fair Lady; she and her many admirers were disappointed when Warner Brothers chose to cast an established film star, Audrey Hepburn, in the role. Publicity surrounding the choice was intense; Hepburn was not a trained singer, and her vocals were dubbed by singer Marni Nixon.

Meanwhile, Julie Andrews set to work on her film for Walt Disney. Mary Poppins was a huge success and immediately established Julie Andrews as an international film star. Her triumph was confirmed when she won the 1964 Best Actress Oscar for her very first film appearance. She followed up this success with her dramatic film debut in the World War II satire The Americanization of Emily with James Garner, who would become a frequent co-star and lifelong friend.

Julie Andrews Biography Photo
Andrews scored the most spectacular success of her career with the starring role in The Sound of Music, another Broadway musical adaptation and the most successful motion picture made up until that time. Andrews was nominated for an Oscar again, and the film was honored as Best Picture of the Year. It remains a beloved classic. Forty years after its original release it draws huge crowds to massive outdoor sing-along screenings such as those held in the 25,000-seat Hollywood Bowl. The reigning international film star of the mid-1960s, Andrews starred in the most successful film of 1966, Hawaii, and in the Alfred Hitchcock thriller Torn Curtain with Paul Newman. In 1967, she shone in yet another successful musical, Thoroughly Modern Millie. That same year, her marriage to Tony Walton ended, although the pair remained close friends and have often collaborated in the years since.

A film biography of the British singer and actress Gertrude Lawrence -- Star! -- was a box office disappointment. Audiences were turning away from musical films. Her next starring vehicle, a musical spy story of the First World War, Darling Lili, was also a commercial failure, but proved to be a personal success for Andrews on another level. Her first collaboration with director Blake Edwards, it marked the beginning of a lasting partnership in art and life. Andrews and Edwards were married in 1969. The couple raised his two children from a previous marriage and adopted two more of their own.

Julie Andrews Biography Photo
After a number of successful television specials with her friend Carol Burnett, Julie Andrews hosted her own weekly variety show on CBS television in the 1972-73 season. She also enjoyed great success as a concert artist, with appearances at the Royal Albert Hall and the London Palladium. In these years, she also began writing children's books under her married name, Julie Andrews Edwards. After the success of Mandy (1971) and The Last of the Really Great Whangdoodles (1974), she collaborated with her daughter, Emma Walton, on Dumpy the Dumptruck and its many sequels, a popular series of books for very small children. Her novels Dragon and Simeon's Gift introduce young readers to the lore of the Middle Ages. Several of her books have been illustrated by her ex-husband, Tony Walton.

Julie Andrews Biography Photo
Although Hollywood was no longer producing the kind of musical films that had made her famous, Julie Andrews continued to develop her dramatic talents in a wider variety of roles in the 1970s and '80s, appearing in a number of films directed by her husband, Blake Edwards, including The Tamarind Seed, 10, S.O.B. and That's Life. Andrews and Edwards enjoyed a notable success with the 1982 film Victor/Victoria, in which Andrews played a woman who disguises herself as a young man and achieves success on stage as a female impersonator. This comedy of gender confusion struck a chord with international audiences in the 1980s and reunited her with co-star James Garner.

In the 1990s, Andrews became increasingly involved in international charities. Since 1992, she has served as Goodwill Ambassador for the United Nations Development Fund for Women (UNIFEM), which assists women and their communities in impoverished countries. Another favorite charity is Operation USA, a California-based international relief agency.

Julie Andrews Biography Photo
Andrews returned to the New York theater in 1993 with an appearance in the small ensemble cast of the Stephen Sondheim revue Putting It Together. It was clear that theater audiences wanted more of Julie Andrews and she brought a stage version of Victor/Victoria to Broadway in 1995. An enormous success with critics and the public, Andrews appeared in the show for two years. After developing vocal problems, due to the growth of ovules on her vocal chords, she sought treatment through surgery, but the operation damaged her larynx irreparably, ending her singing career. Expert opinion concluded that the surgery had been improperly performed and Andrews received a settlement, reported to be as high as $30 million.

Her speaking voice remained largely unimpaired, and Andrews has continued her acting career. A new audience discovered Julie Andrews through her role as the Queen in the film The Princess Diaries and its sequel. Her speaking voice has also been heard in the animated Shrek films. In the sixth decade of her career, Julie Andrews was branching out in still more avenues of the performing arts, directing a successful revival of The Boy Friend, the show that first brought her to America as a teenager. She continues to act, direct, write and contribute her boundless energy to her favorite causes.