Hayden Panettiere Wallpapers
Hayden Leslie Panettiere was born August 21, 1989 in Palisades, New York. Her parents are Lesley Vogel, a former soap opera actress, and Skip Panettiere, a fire department lieutenant. She has one younger brother, Jansen Panettiere that follows her acting steps. Hayden started her career filming TV ads with only 11 months old, being Playskool Toy Train her first commercial. Later she played the role of Sarah Roberts on the ABC soap opera "One Life to Live" (1994- 1997) and then starred as Lizzie Spaulding on the CBS soap opera "Guiding Light" when she was eight years old (1997 - 2001). In Guiding Light, for Hayden's character Lizzie, who battled with leukemia, the show reached a Special Recognition Award from the Leukemia and Lymphoma Society for raising national awareness of the disease in daytime viewers.
Hayden has worked in over a dozen feature films, many of them made-for-TV movies. She lent her voice for Dot in Pixar CGI animated movie "Bug's Life." Moreover, she played a leading role as Kairi's voice in the smashing hit "Kingdom Hearts" series of video games for the Playstation 2.
Her career grew when she landed the starring role in FOX's "Ally McBeal" as Ally McBeal's daughter and a recurring guest role in "Malcolm in the Middle". She also guest starred in "Law & Order: SVU". She performed Sheryl Yoast in the movie "Remember the Titans". She played a cheerleader in "Bring It On: All or Nothing".

At the moment, Panettiere plays Claire Bennet in NBC series "Heroes", who is a high school cheerleader with regenerative healing powers. During 2007 she has become a regular visitor to science-fiction famous meetings around the globe, attending New York Comic-Con and Fan Expo Canada. Referring to the roles she has performed, Hayden confesses that choices are sometimes limited because "people look at her as either the 'popular cheerleader' type or just 'the blonde.'"

One of her future projects include an appearance in drama "Fireflies in the Garden", where she will play a younger version of Emily Watson's character Jane Lawrence. George Newbern, who provided the voice of Sephiroth in "Kingdom Hearts II" (opposite Panettiere) and "Final Fantasy VII: Advent Children", will also work in the movie. Her earnings are estimated in two million dollars in 2007 according to Forbes magazine. In June 2007, she signed with the William Morris Agency to represent her in her endeavors.
Panettiere is the face of Neutrogena in its worldwide ad campaign, just like several stars including, Kristin Kreuk, Mischa Barton, Mandy Moore, Jennifer Love Hewitt and Jennifer Freeman. She made number six on the FHM 100 Sexiest Women list in 2007. Hayden Panettiere is the cover girl, and number one star, in Entertainment Weekly's "The EW 100: The Stars We Love Right Now" issue, June 29, 2007/July 6, 2007.
Regarding her music skills, Panettiere was nominated for a Grammy in 1999 for Best Spoken Word Album For Children for A Bug's Life Read-Along [2000]. She is currently recording her first album, which was originally scheduled for a May 8, 2007 release. However, the album has been postponed several times. First it was put off until August, then to December. Finally, Entertainment Weekly announced the album would be released in 2008. Hayden is featured on the Soundtrack Bring It On: All Or Nothing alongside with her co-star Solange Knowles.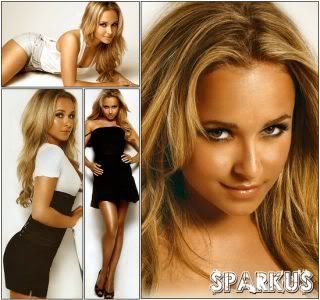 Hayden Panettiere Wallpapers