Lee Dong Hae Wallpapers
Lee Donghae (born October 15, 1986), more commonly credited as Donghae, is a singer, dancer, occasional actor, and a member of Korean boy band Super Junior. He is seen as one of the four lead dancers of Super Junior. He currently attends Myongji University. He is also one of the first Korean artists to appear on Chinese postage stamps. Lee Donghae was born in Mokpo, Jeollanam-do, South Korea. He has one older brother, Lee Donghwa. Under the support of his father, who had a wish to become a singer, Lee successful signed a contract with SM Entertainment soon after he won first place on the 3rd SM Youth Best Selection Best Outward Appearance in 2001. He was then recruited into a five-member boy band, Smile, along with future bandmate Leeteuk by his talent agency before this idea was dropped.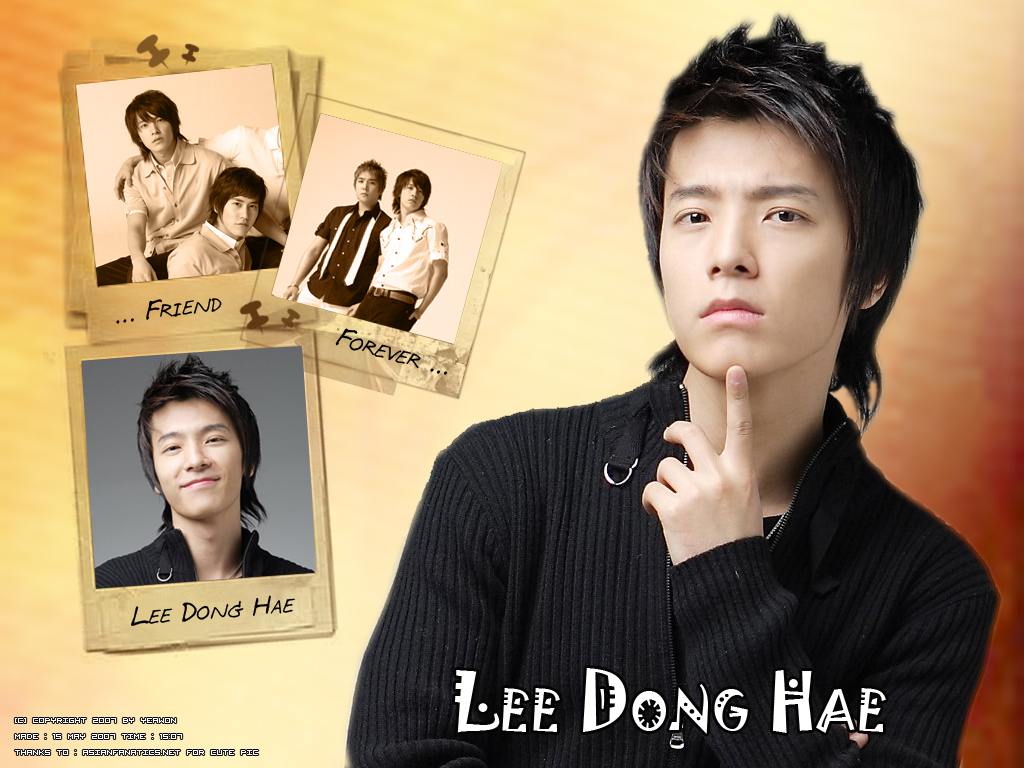 After four years of training in areas of singing, acting, and dancing SM Entertainment officially announced Lee as a member of the all-male group Super Junior 05, the presumed first generation of the group Super Junior. Several days before his official debut he made a brief appearance in November 2005 at SBS's Shin Dong-yup's There Is There Isn't panel.

Lee debuted with the other eleven members of Super Junior 05 on November 6, 2005, performing the group's first single, "TWINS (Knock Out)." The group released their first studio album a month later and it debuted as #3 on the monthly MIAK K-pop album charts.As the group's second single, "Miracle", came to an end, his talent agency was about to recruit new members for the next Super Junior generation, Super Junior 06, with Lee still as an undergraduate member of Super Junior. However, plans changed when the company added in a thirteenth member, Kyuhyun, and the company declared that future Super Junior generations were rumors. The group dropped the suffix "05" and became officially Super Junior.

In early 2008, SM Entertainment placed Lee in a seven-member Chinese subgroup of Super Junior, Super Junior-M. The subgroup specializes in singing Chinese versions of Super Junior's Korean songs, bringing the K-pop influence over to the Chinese music industry. Super Junior-M is the first international music group in the Chinese music industry to have members of both Chinese and Korean descent. Super Junior-M debuted in China on April 8, 2008 at the 8th Annual Music Chart Awards with the release of their first single music video, "U". The subgroup released their first Chinese-language studio album, Me on May 2, 2008. The album debuted on Taiwan's G-music combo charts as #2 and #1 on many of China's and Thailand's music charts.

Since his debut, Lee has made frequent appearances in Super Junior's reality and variety shows, such as M.NET's Mystery 6 (in which Super Junior acts a ghost story and Donghae is the main character); SBS's Super Junior Full House and Exploration of the Human Body, and M.NET's Super Summer. Lee has also been an active guest on KBS's Star Golden Bell and has been a frequent dancer for Super Junior performances in other variety shows such as SBS's Love Letter and X-Man. Lee debuted as an actor in 2007 when Super Junior's debut mystery film, Attack on the Pin-Up Boys, was released in over four hundred cinemas in South Korea, which Donghae was featured as the lead supporting role. He starred as a classmate and close friend of Kim Kibum, a high school student who investigates the "mysterious attacks" on the most handsome boys in various high schools in the town. Lee also performs key roles in other music videos, such as in BoA's "Key of Heart"and Girls' Generation's "Kissing You". Donghae also performed in CF's which made the public learn more about his charismatic self.



Lee Dong Hae Wallpapers