Takeshi Kaneshiro Wallpapers
Takeshi Kaneshiro (Japanese and Chinese: 金城 武, romaji: Kaneshiro Takeshi, Pinyin: Jīnchéng Wǔ), born October 11, 1973, is a famous Asian actor of mixed heritage - his father is Okinawan and his mother is Taiwanese.

Kaneshiro is a common Okinawan family name. In Kanji, 金城 is Kaneshiro and 武 is Takeshi (given name), with Japanese readings. He appears as 金城 武 (Kaneshiro Takeshi) on Japanese media. Although not strictly a Chinese surname, the characters of Takeshi's surname can be read in Chinese as 金城 (Jīnchéng). When credited in movies, Takeshi's name often appears as 金城 武 Kaneshiro Takeshi, with a space separating the second and third character to indicate that the former is his surname and the latter is his given name (thus, neither 金城武 nor 金 城武 is credited). In this way, Takeshi's Japanese surname, 金城, is distinguished from the common Chinese surname, 金.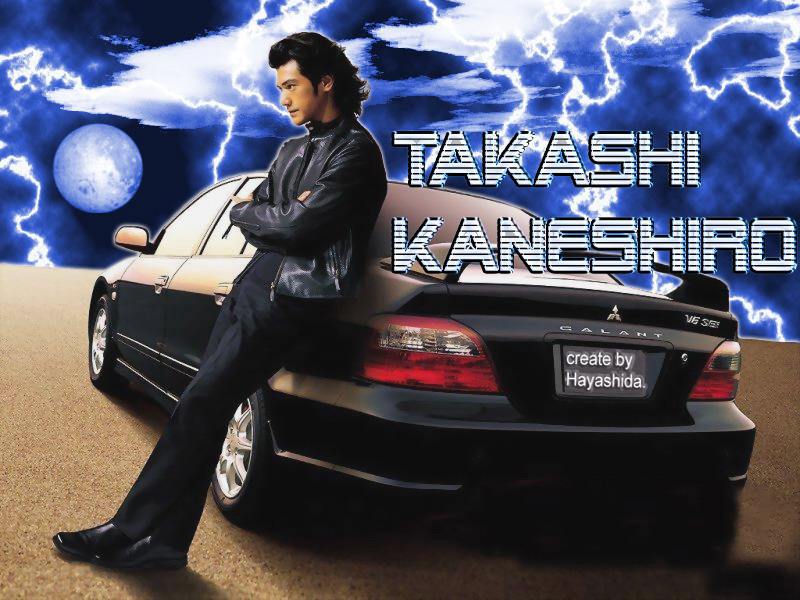 Takeshi is of both Japanese and Taiwanese ancestry. With a mother from Taiwan and a father from Okinawa, Kaneshiro was born and raised in Taipei, and is a Japanese citizen (nationality).

He has two elder brothers who are 7 years and 1 year his senior respectively. After being bullied at a regular Taiwanese high school, the Gaoxiong Preparatory School, over his mixed heritage, he enrolled at English-based Taipei American School, which enabled him to converse in English, making him effectively multi-lingual considering his fluency in Mandarin, Taiwanese, and Japanese. As a result of his varied background, Kaneshiro can speak with varying degrees of fluency in English, Mandarin, Cantonese, and Japanese. It was while he was studying there that he began doing TV commercials, and he decided to quit school in order to pursue a singing and acting career.

In 1992, Kaneshiro made his singing debut, entering the business with the nickname Aniki, meaning 'older brother' in Japanese. His debut album was Heartbreaking Night (1992). Contracted to EMI, he wrote many of his own Mandarin and Cantonese songs. The following year, his popularity propelled him into acting and he no longer produces any commercial music. He later stated that acting comes to him more naturally, while his singing capabilities are not up to scratch and best left to the "professionals,"[citation needed]including his favorite singer Jacky Cheung. Kaneshiro maintains that singing is only his hobby.

His first movie was Executioners (1993) and this was followed by the critically acclaimed Wong Kar-Wai film Chungking Express (1994) and a string of other Hong Kong movies. Later, Kaneshiro starred in the highly successful Japanese TV mini-series God, Please Give Me More Time (1998), allowing him to branch into Japanese movies such as Returner (2002). Kaneshiro's work, however, is more heavily concentrated in China, Hong Kong, and Taiwan. He also became well known in the video game industry portraying the samurai warrior Samanosuke in the Capcom hit Onimusha. In a June 2007 article on the movie site Ain't It Cool News, it was revealed that Kaneshiro will be in the Onimusha movie, reprising his role as Samanosuke and for a 2011 release.

Kaneshiro is often praised for having "chameleon-like" acting skills due to his ability to adapt to a wide variety of roles.[citation needed] He became a superstar playing oddball and forlorn characters and has proven impossible to typecast. Director Peter Chan, of the Chinese musical Perhaps Love, which Kaneshiro starred in, has been quoted as saying "I am willing to exchange my 11 nominations for the nomination of Takeshi for Best Actor award. My greatest regret is Takeshi Kaneshiro wasn't nominated." Despite this, he continued to receive rave reviews for a spectacular performance of a vulnerable yet angry and ultimately maturing character.

Outside of the entertainment business, Kaneshiro has acted as a spokesperson and model for Emporio Armani Underwear (2008) as well as, Prada (1998), Lifecard credit card company, VAIO personal computer, Honda, Lipice lips moisturizer, SonyEricsson, Pocari Sweat soft drink, Morinaga chocolate, Volvic, GEOS (eikaiwa) (language school), Petronas oil company, Japan Asia Airways, Hyundai Motor Company, Toyota MarkX ZiO, Mitsubishi Galant, NTT docomo the predominant mobile phone operator in Japan, NTT Yellow Pages, Shiseido, Lycos, UCC Ueshima Coffee Co., Kadokawa Shoten a well-known Japanese publisher based in Tokyo, Rice Burger, Roasted barley tea, One2Free (HK), and Kiwi cold drink.

About his personal life Kaneshiro has been quoted as saying "If one day I get married and have kids, I will probably be one of those men who really care for the family. I will eat at home every day, and help with the chores and take care of the children."



Takeshi Kaneshiro Wallpapers